Frequently Asked Questions
Yes, our event barn is completely air-conditioned.
We provide tables which will hold your food, cake, bridal party items and guest book, white resin folding chairs for ceremony, white Chiavari chairs for reception, set up and break down of tables and chairs, inside clean-up including garbage, one hour for scheduled rehearsal, choice of outdoor ceremony location, bridal suite and groom suite, floor plan design, free wi-fi, fire pit access for up to 300 guests. Only ONE wedding is scheduled per day.
We can provide you with a wedding coordinator, decorations, bar service, table linens, flatware/china, or a variety of different tables and chairs for an additional per item cost. 
Packages vary from 12.5 hours to 17.5 hours
300 guests seated indoors
We give each couple a copy of our vendor recommendation list. However, couples can bring in their own vendors as long as they are licensed, insured, and receive prior written approval by the venue. All vendors must maintain a minimum $1,000,000 general liability policy with our venue listed as additional insured.
A $1,500 retainer fee is required to book your wedding date. The balance is to be paid in monthly payments. Should you cancel, all fees paid are non-refundable. 
Renter is required to use Plantation Oaks Farms certified bar service if intoxicating beverages are present. Renter must supply all alcohol, mixers, mix drinks, glassware, and garnishes to be served. The bar service includes one bartender, a security officer, the mobile outdoor bar, and the indoor bar. All alcohol must be delivered to the venue no less than 3 hours prior to the ceremony. 
Bar Service – $600 
Additional bartenders - $300/bartender
We allow only real flower petals to be thrown on the ground. Fake or synthetic flowers may not be thrown on the ground for environmental reasons. For the bride and groom's exit, sparklers, bubbles, or glow sticks are allowed.
Yes, the venue is up to commercial code, has been inspected and given a certificate of occupancy by Nassau County in the state of Florida. We have also been inspected and passed all annual fire marshal inspections. We are the only venue in the county that contains a fire suppression system in accordance with the Florida state fire marshal. Safety is our highest priority when it comes to our clients and their guests.
Yes, all of our clients are able to take engagement photos or bridal photos prior to the event at no charge. All photo shoots must be scheduled with the venue and are only allowed on days that no other events are held.
We only allow ONE wedding per day and all rehearsals are scheduled on days that an event is not being held. Once the bridal party starts walking down the aisle, the gate is closed to keep the ceremony private. After the ceremony has commenced, the gate is opened again for guests and vendors to enter and exit as needed. Anyone not associated with your wedding party will not be allowed at the venue.
Up to 2 years in advance. We book a lot of events every year so we suggest that you book your wedding or event as soon as possible to lock in your date. We do not hold any dates without a retainer fee and a signed contract. All dates are booked on a first come, first serve basis. Once a signed contract and required retainer fee is received, your date is blocked for you.
All fees paid are non-refundable should you cancel your event for any reason. If an event has to be canceled due to an act of God (hurricanes, tornadoes, earthquakes, sinkholes, etc) or other unforeseeable events such as war, or a terrorist attack, the event will be rescheduled to another available date of the client's choosing at no additional charge. If the event has to be rescheduled for another date due to death, military duties, sickness, family situations, pandemics, or any other reason, the client is required to sign a new contract for the new date chosen and is required to put an additional fee toward the new contract.
The original retainer fee received for the original contract is forfeited as liquid damages to the venue for the original date being held for the client. All other payments may be applied towards the new date requested.
No, however, we do highly recommend that you hire a licensed and insured wedding coordinator to ensure your event runs smoothly in the way that you want it. You can hire one of our in-house coordinators for an additional fee. 
We do not allow any fireworks (other than sparklers outside for the bride and groom exit), pyrotechnics, glitter, confetti, bird seed, rice, outside animals not owned by the venue, Chinese floating lanterns, real candles, or fake flower petals thrown on the ground outside. Nailing or embedding anything into the walls, rafters, or any part of the structure is not allowed. Renters can hang items from the existing nails and screws in the walls and may use removable command strips. Renters may not staple, glue or work anything into the tables, chairs, or walls. There should be no paint residue or marks on any fences, walls, concrete, flooring, trees, etc. Guests, clients and vendors may not go into the pastures or feed any of the livestock animals on-site. There should be no climbing of any buildings or structures. All draping must be completed by a licensed and insured draping/rental company. No items may be hung from or put on any of the chandeliers.
By 10 PM, music must be turned off and by 11:30 PM, all vendors, guests, clients plus brought-in items must be off the premises.
Join us for your own personal tour
Get all of your wedding details by downloading our Pricing and Touring Brochure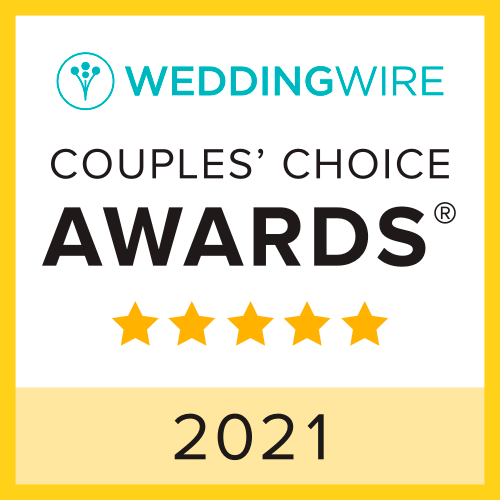 Wedding Award 2019